ABOUT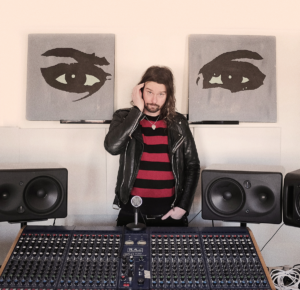 My name is Robert Pehrsson. I have been writing songs and playing music for some 30 years in bands such as Dundertåget, Thunder Express, Death Breath, Imperial State Electric and for the last six years Robert Pehrsson's Humbucker.
I've been around long enough to have recorded a couple of albums in the all-analog domain to tape, and then experience the shift towards the digital recording environment. I was always interested in the craft of recording, engineering, mixing and producing, so much I decided to build my own studio, a hybrid between analog and computer based recording and mixing.
Through my own bands, I have had the chance to work with some really great engineers, I have also been in the position where I could learn from engineering friends who have been very generous and shared their knowledge with me. For 12 years I worked as a music teacher, engineer and counselor at a culture center for youths. There I recorded and mixed a variety of music like pop, rock, death metal, Hiphop, hard rock, folk rock, to name some. I've spent years experimenting and practicing on my own too while acquiring the tools needed to record and mix. I did all this mostly because I like doing it so much, and thought it would be of great value for me to have this knowledge.
I'd like to offer my services to you. I record, engineer, and mix at my studio. Each service scaled to suit each project as appropriate.
To give you an idea of my musical background this is my discography as a musician. Find my work as an engineer, mixer & producer under "WORK".
Discography
1996 – Deathwitch – Triumphant Devastation
1997 – Deathwitch – Dawn of Armageddon
1999 – Tomahawk – What to Do 7″
1999 – Tomahawk – Push 7″
2002 – Wrecks – Wrecks
2004 – Thunder Express – We Play for Pleasure
2006 – Death Breath – Death Breath
2006 – Death Breath – Stinking Up the Night
2007 – Thunder Express – Republic Disgrace
2007 – Death Breath – Let It Stink
2009 – Dundertåget – Skaffa ny frisyr
2010 – Dundertåget – Dom feta åren är förbi
2010 – Imperial State Electric – Imperial State Electric
2012 – Imperial State Electric – Pop War
2013 – Robert Pehrsson's Humbucker – S/T (Solo album)
2013 – Imperial State Electric – Reptile Brain Music
2014 – Robert Pehrsson's Humbucker – The Hollow Of A Rising Tone 7″
2015 – Imperial State Electric – Honk Machine
2016 – Robert Pehrsson's Humbucker – I Need To Know 7″
2016 – Robert Pehrsson's Humbucker – Long Way To The Light
2019 – Robert Pehrsson's Humbucker – Out Of The Dark
Session work
2009 – Mary's Kids – S/T
2010 – Necronaut – S/T
2011 – 77 – High Decibels
2011 – Slingblade – The Unpredicted Deeds of Molly Black
2012 – The Datsuns – Death Rattle Boogie
2012 – Bullet – Full Pull
2012 – Mary's Kids – Say No!
2013 – Black Trip – Goin' Under
2013 – Dead Lord – Goodbye Repentance
2013 – Dregen – S/T
2015 – Black Trip – Shadowline
2016 – Driving Rain – Hard Times
2016 – CC Company – The Pat Benetar cover single
2019 – Joseph Tholl – Devil's Drum
2019 – Åskväder – TBA