MIXING
I work in a hybrid fashion when I mix. I use hardware gear such as compressors and EQ's, I also make use of my favorite plugins such as UAD, Soundtoys, FabFilter & Softube, to mention a few. I really enjoy working this way, and it gives me a nice workflow, and I get the best from both worlds. I will mix the music you have recorded here, or elsewhere. The internet is a wonderful thing! I can mix your music no matter where you reside. You can send me your files and I will work on it from my studio. Each day I'll send my work back to you and await your input and make changes based on that. That way you will be along for the ride during the whole process.
Some of the gear and software I use when I mix and track:
Mackie HR624 Mk2 monitoring
UAD Apollo 8 Quad, 
UAD Satellite Quad (x2)
Silver Bullet – DRBILL'SSTEREO TONE-AMP
DBX 163 vintage compressor (x3)
DBX 163X vintage compressor (x3)
TL Audio 5051 Valve Processor
ART Pro MPA II
Softube Console 1 MKII
Plugins from UAD, FabFilter, Soundtoys, Softube, Slate, Plugin Alliance to name a few.
Preparing your tracks for mixing
If you are sending me tracks to get them mixed there are a number of things you can do to prepare them. It will save me a lot of time and it will be more cost effective for you and ultimately will make the process much smoother for both parties. Performance enhancement such as drum editing and vocal tuning are not included in the price unless agreed beforehand. 
Do not send a DAW session file. WAV files only.
Send only the tracks you want to be mixed.

 

Organize and clearly label your tracks. Make it simple, short, clean and logical. Each track needs to have a unique name that is descriptive of the sound on it and each song needs its own folder labeled with the song name.

 

Prepend track names with the track numbers. Numbers ensure that all the drums will show up next to each other as will the bass, guitars and vocals, assuming that's how you have them grouped in your recording session.
Turn off processing plugins. If there are certain delays, reverbs, modulation effects, etc. that you have been using and are absolutely in love with, feel free to leave them on the track.
Every track should be consolidated from zero until the end of the session. This is to ensure everything lines up correctly once it has been imported. This is critical. 
Clean up your tracks if possible. Remove all unwanted noises between performance parts such as breathing, headphone leakage, string buzz, etc.
Make sure to create fades and crossfades where needed on all the audio before you export the files and send them to me. This is crucial to avoid clicking, popping or other artifacts.
Please be certain that all mono tracks are sent as mono WAV files. Most files will be mono, guitars, individual drum mics, vocal tracks, bass tracks, etc.
If possible include a rough MP3 mixdown of the session as a reference and feel free to include any songs from other bands that you want as a mix reference.
Please send all files in the same sample rate\bit depth in which they were recorded (usually 44.1kHz\24 bit or 48kHz\24 bit).
Pack everything in a zip and send to studiohumbucker@gmail.com
Download the guide as a pdf here (picture examples in pdf): Guide
Recording
Here you can record with your band or do overdubs on the music you already recorded elsewhere. I have a backline readily available for your use, should you choose not to bring your own gear. Drums, a variety of amps, cabinets, pedals, etc. I own a bunch of guitars, both vintage and new. We have everything covered in the backline department to make a great sounding pop, rock, hard rock, metal, project. Check out the gear list under "Studio".
The studio is located inside a big old auditorium that is being rebuilt into this amazing place with a large stage, rehearsal spaces and a lounge area with a café. A really creative atmosphere. Studio Humbucker is made up of a control room and a tracking room with an iso booth for amps and vocals. Within walking distance you'll find restaurants, shops and easy access to subway stations & free parking for your car.
MONITORING
Mackie HR624 Mk2
INTERFACE
UAD Apollo 16
UAD Apollo Twin
UAD Satellite Quad (x2)
OUTBOARD
Silver Bullet – DRBILL'S STEREO TONE-AMP
DBX 163 vintage compressor (x3)
DBX 163X vintage compressor (x3)
TL Audio 5051 Valve Processor
ART Pro MPA II
PLUGINS
UAD, FabFilter, Soundtoys, Softube, Sonarworks Reference 4, Slate, Plugin Alliance, Izotope, Waves and many more.
MICROPHONES
Shure SM7B
Warm Audio WA-47jr
Electro-Voice RE20
Electro Voice 635A (x2)
RCF MD1750 (x2)
AGK D190 (x2)
Sennheiser 421
Rode NT1A (x2) Modded with matched RK-47 capsules
MT47
MT87
RB100 Ribbon
Shure SM57 (x4)
Audix ADX51 – Stereo pair
Audix D6
Audix D4
Audix D2 (x2)
Audix i-5
EV PL 35 (x4)
Audio-Technica ATM230
More on request.
AMPS
Marshall JMP 2203 Master Model Lead 100w – 1980
Marshall JCM 800 50w
Peavy Classic 30w Combo
Orange Micro Terror
SPEAKER CABINETS
Vintage Malmberg 4×12 loaded with 30w Greenbacks
2×12 cabinet loaded with 25w Greenbacks
GUITARS
Gibson Les Paul Standard (x3)
Gibson Les Paul Traditional
Greco Les Paul Super Sound
Gibson SG
Fender Telecaster
Hagström H2N
Burny Les Paul
Person Les Paul
Fernandes Rickenbacker – bass
Epiphone Acoustic
Yamaha Acoustic
EFFECT PEDALS
Dunlop Cry Baby
Magnetic Effects Boost & Overdrive (custom built)
Magnetic Effects Sändare
Magnetic Effects Vortex
Echo Analog Delay (Handbuilt by me)
Range Disaster Treble Booster (Handbuilt by me)
Tone Mender (Handbuilt by me)
Noob Screamer (Handbuilt by me)
The Brain Fog Phaser (Handbuilt by me)
Tiny Pedals The Central Scrutinizer
BOSS HM-2
MXR Phase 90
MXR Micro Chorus
MXR Bass Octave Deluxe
MXR Micro Amp
Ibanez Tube Screamer TS808
Ibanez Analog Delay
BOSS TU-2 & TU-3
Tone City Golden Plexi
Tone City Fuxx Fuzz
Fulltone Fat Boost 3
MOOER Reverb
MOOER Looper
Electro-Harmonix LPB-1
Digitech The Drop
TC Electronic Pipeline Tap Tremolo
Boss ODB-3 Bass Overdrive
Electro-Harmonix Bass Preacher Compressor
DRUMS
Pearl Export
Kick 22″
Snare 14″
Toms 12″, 13″, 16″
Snare stand x 2
Straight stand x2
Boom stand x 2
Hihat stand
TAMA S.L.P. Fat Spruce 14″ Snare
Drum Throne
My name is Robert Pehrsson. I have been writing songs and playing music for 30 years in bands such as Dundertåget, Thunder Express, Death Breath, Imperial State Electric and for the last eight years Robert Pehrsson's Humbucker.
I've been around long enough to have recorded a couple of albums in the all-analog domain to tape, and then experience the shift towards the digital recording environment. I was always interested in the craft of recording, engineering, mixing and producing, so much I decided to build my own studio, a hybrid between analog and computer-based recording and mixing.
I have also worked as an engineer and music teacher at a culture center for youths. There I recorded and mixed a variety of music every day for 12 years. 
Discography
1996 – Deathwitch – Triumphant Devastation
1997 – Deathwitch – Dawn of Armageddon
1999 – Tomahawk – What to Do 7″
1999 – Tomahawk – Push 7″
2002 – Wrecks – Wrecks
2004 – Thunder Express – We Play for Pleasure
2006 – Death Breath – Death Breath
2006 – Death Breath – Stinking Up the Night
2007 – Thunder Express – Republic Disgrace
2007 – Death Breath – Let It Stink
2008 – Thunder Express – A 4 Way Super Split!
2009 – Dundertåget – Skaffa ny frisyr
2010 – Dundertåget – Dom feta åren är förbi
2010 – Dundertåget – Andra Spelar Sundström
2010 – Imperial State Electric – Imperial State Electric
2012 – Imperial State Electric – Pop War
2013 – Robert Pehrsson's Humbucker – S/T (Solo album)
2013 – Imperial State Electric – Reptile Brain Music
2014 – Robert Pehrsson's Humbucker – The Hollow Of A Rising Tone 7″
2015 – Imperial State Electric – Honk Machine
2016 – Robert Pehrsson's Humbucker – I Need To Know 7″
2016 – Robert Pehrsson's Humbucker – Long Way To The Light
2019 – Robert Pehrsson's Humbucker – Out Of The Dark
2022 – Death Breath – The Old Hag
Session work
2009 – Mary's Kids – S/T
2010 – Necronaut – S/T
2011 – 77 – High Decibels
2011 – Slingblade – The Unpredicted Deeds of Molly Black
2012 – The Datsuns – Death Rattle Boogie
2012 – Bullet – Full Pull
2012 – Mary's Kids – Say No!
2013 – Black Trip – Goin' Under
2013 – Dead Lord – Goodbye Repentance
2013 – Dregen – S/T
2014 – The Dagger – S/T
2015 – Black Trip – Shadowline
2016 – Driving Rain – Hard Times
2016 – CC Company – The Pat Benetar cover single
2019 – Joseph Tholl – Devil's Drum
2019 – Åskväder – S/T
2020 – Hilli & His Henchmen – Collage
2020 – Dead Lord – Surrender
2020 – The Rokets – Fast Times
2020 – Grande Royale – Carry On
2020 – Cobra Cult – Second Gear
2021 – Suspekt – Tureborgsgården
2021 – Tyrann – Djävulens Musik
2022 – Cobra Cult – Don't Kill The Dark
2023 – Tribulation – Hamartia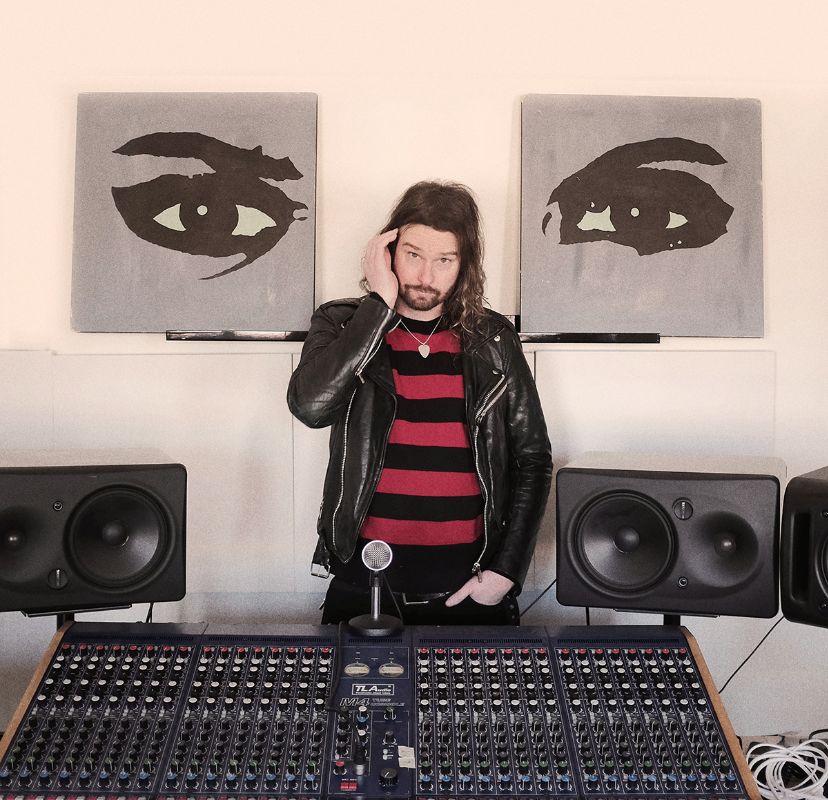 Request a quote or ask a question
Drop me a line for a prompt reply. Feel free to describe your project. For example, genre, previous releases, budget and deadline, this will make it a lot easier for me to give you a quote.
I usually charge on a per-day basis for recording and on a per-song basis for mixing. I can also charge by the project, please let me know what you have in mind. Each service scaled to suit each project as appropriate.
Location: Stockholm, Hagsätra. I will give you the address after establishing contact.
Email: studiohumbucker@gmail.com
The website is in English because I do a lot of remote mixing. Feel free to write to me in Swedish though.